Middle School Programs
Transform your Classroom into a Living Laboratory!
Programs
Pricing
Reservations
FAQ
Prepare your students to roll up their sleeves to become REAL scientists performing REAL experiments! Known for our innovative approach to science, High Touch High Tech is the #1 choice among teachers, administrators, parents and especially the students!
High Touch High Tech allows students to discover the realities of science in their everyday lives by providing a hands-on experience that goes beyond the classroom! Middle school students in grades 6-8 can become real scientists and have fun while learning the fundamentals of Earth & Space Science, Biology, Physics, & even Chemistry!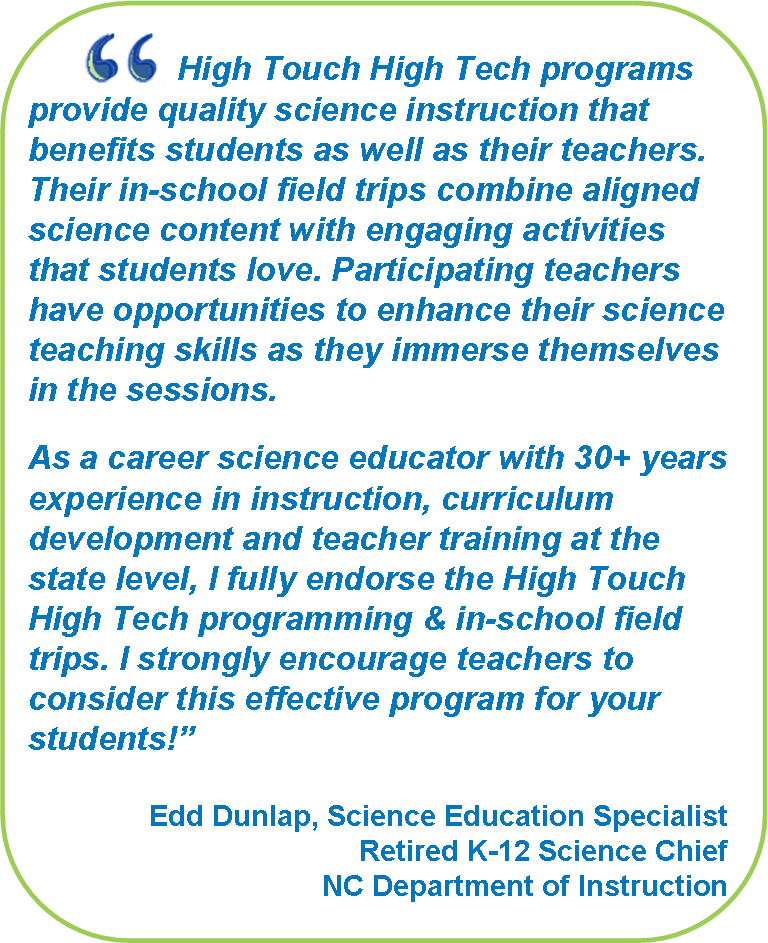 Our programs present young teens with problem-solving skills as well as build self-esteem and help establish a positive regard for learning. Each HTHT experience provides students with the opportunity to interact with their peers, share ideas and contribute to inquiry based discussions that support the way in which students naturally learn.
Carefully designed for grades 6-8, High Touch High Tech programs create creates a student-scientist partnership, offering many opportunities for students ranging from direct participation with the professional scientific community, improvement in student attitudes and scientific growth, and offers educators a way to enhance the classroom experience for their students.
In-class workshops offer middle school students a fun, challenging, hands-on introduction to the skills they will need in high school, college, and the workplace. We use materials that are concrete, safe, and relative for the entire class. Conducting an experiment first-hand encourages the class to develop their scientific interest and inspires them to learn.
Our highly trained team of scientists are genuinely passionate about science education – their extensive knowledge & love of teaching translates into the highest quality educational experience for your entire classroom.
Boost your students confidence for standardized testing with our innovative & totally hands-on in-school field trips! Our programs are designed to enhance your curriculum & go hand-in-hand with the NC Essential Standards for Science.
---
Featured Middle School Programs Include:
New - All Systems Go: Endocrine System© Explore the endocrine system in this fun program! Learn how the body sends chemical messages and how insulin works.
New - All Systems Go: Nervous System© Explore the nervous system in this fun program! Learn about the spine, neurons. Make the connection that our nervous system and electrical impulses through a special circuit experiment.
New - Aviation Antics© Hover, glide and soar with this exciting series of STEM experiments! Students will be the flight engineers and learn what it takes to stay up in the air.
New - Climate Commandos© Students will gain an understanding of how the climate of the earth is changing by preforming some cool experiments. Young scientists will be able to conceptualize environmental occurrences of the Coriolis factor and the gulf stream, and discover how global warming will affect the earth.
New - DNA Detectives© Using sophisticated DNA forensic techniques, students will have fun as we investigate DNA extractions, touch REAL DNA, explore electrophoresis, and build our very own DNA molecule to eat!
New - Edison's Workshop 2.0© Explore currents and what makes circuits work! Discover the science behind LEDs, electromagnets, and more.
New - Journey to Galapagos© Take a trip to one of the most biodiverse places on Earth! Learn all about how these volcanic islands formed and new species evolved through adaptation and natural selection.
New - Ready, Set, Reaction!© Get ready to kick chemistry up a notch with this special series of experiments! From thermochromatic changes, to non-Newtonian substances, and chemical kinetics, your students are all set to learn something new about reactions.
Click on the link below to view our Middle School Program Guide.
INSPIRE
Motivate children to investigate the natural wonders of science!
---

$8.00 per student/minimums will apply

*Please Note: A $20.00 Travel Fee Will Apply
This supply intensive, educational experience includes all equipment and materials needed to turn your classroom into a real science laboratory!
We use materials that are concrete, safe and relevant to the everyday lives for students of all ages. Upon completion of the field trip, students will receive a cool science certificate and ALL programs provide make-and-take experiments.
Teachers and Parent Chaperones are welcome to participate free of charge. Program fees are usually paid by Parents, PTA/PTO or Grant Dollars.
EXPLORE
Investigate how fun and interesting science can be through hands-on learning!
---
Programs may be reserved by using our online reservation form, by calling our office at 800.444.4968 or via email to info@ScienceMadeFun.net.
When booking your program, please have the following information available:
* Name of School
* Program(s) you have chosen
* Dates with alternates
* Grade
* Number of classes
* Approx. Number of students per class

Our Calendar is Filling Up Fast!
Reserve Your In-School Field Trip, Today!
Contact our Office by Phone at 800.444.4968 or Save Time & Book Online.
Q: Can teachers step out of the classroom while the Scientist is facilitating the program?
A: Teachers are requested to remain in the classroom throughout the program. We encourage teachers to participate and rely on their feedback to assist in our efforts to continuously improve upon our FUN and exciting hands on science experiences.
Q: How should I set up my classroom in preparation for the Scientist?
A: Our Scientist and your students will need either desk tops or table tops at which to conduct their hands-on science experiments. We also ask that you have a Chalkboard or Dry Erase board available for use by our Scientist. Note that some programs may require access to water; therefore, access to a sink and tap would also be helpful.
Q: Can I pay for a HTHT in-school field trip with grant dollars that have been awarded to my school?
A: Yes. Many schools pay for their High Touch High Tech programs with grant dollars received via the 21st Century Grant, Eisenhower Grant and several Local & State Grants.
ENGAGE
Involve students by becoming REAL scientists performing REAL experiments!
Reserve
Programs
Now!